A Guy Walks Into a Bar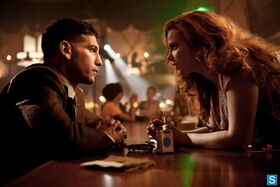 ---
---
---
---
---
---
---
"A Guy Walks Into a Bar" is the first episode of the first season of Mob City.
Hecky Nash bribes police detective Joe Teague to protect him during a dangerous blackmail scheme involving the Los Angeles mob. Seeing this as a perfect opportunity to bring down one of the city's most infamous mobsters, the Los Angeles police force looks to Teague for key information in hopes of crippling the heart of L.A.'s organized crime.
Main cast
Edit
Recurring cast
Edit
Numerous counts of unnamed people at the beginning of the episode
Ad blocker interference detected!
Wikia is a free-to-use site that makes money from advertising. We have a modified experience for viewers using ad blockers

Wikia is not accessible if you've made further modifications. Remove the custom ad blocker rule(s) and the page will load as expected.